Jeremiah 4:11-12, 22-28
Psalm 14
1 Timothy 1:12-17
Luke 15:1-10
"I was formerly a blasphemer, a persecutor, and a man of violence" (1 Tim 1:13)
Today is September 11th. Fifteen years ago today, four commercial airliners were hijacked, two airplanes crashed into the twin towers of the World Trade Center in New York, one into the Pentagon outside of Washington DC, and one crashed into a field in Pennsylvania. This airplane was thought to be directed to the White House. September 11th was a shocking and tragic day in New York, in the US, and in the Western world. The hijackers were men who claimed allegiance to al Qaida and its terrorist leader, Osama Ben Laden. They claimed a religious motivation for this violence, and saw this as part of a war against "the West" and against its secular values, as well as Christianity and Judaism. To these men, and the ideology that they embraced, violence was and is seen as an appropriate and necessary way to further the will of God or Allah in the world. The secular West, and Christianity and Judaism, were seen as legitimate infidel targets. Of course, it is very important to say that most credible Islamic religious scholars totally disagree with them, but that is irrelevant to the attackers.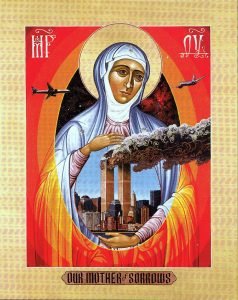 In today's epistle reading, St. Paul recounts his own career with religious violence. By persecuting and killing those who disagreed with his view of Judaism, he believed that he was doing God's will. He believed that the followers of Jesus were an existential threat to Judaism and that proper obedience to Bible and the Torah meant eliminating these people and their teaching by "any means necessary". It was precisely a mission to eliminate the followers of Jesus that took him to Damascus that fateful day. Jesus appeared to St. Paul (or Saul as he was then called), to reveal that he, Jesus, was in fact the Messiah sent by God. Paul learned that by persecuting and killing the followers of Jesus, he was not doing God's will. If fact he was acting contrary to God's will. He was in fact a blasphemer. "I was formerly a blasphemer, a persecutor, and a man of violence."
Today, we might refer to St. Paul as a reformed terrorist. As can be seen in the Book of Acts, many people in the apostolic church did not trust him for many years. It was only after he suffered persecution and was himself almost killed for Christ several times, that people in the wider church began to trust him. He goes on to write: "But I received mercy because I had acted ignorantly in unbelief, and the grace of our Lord overflowed for me with the faith and love that are in Christ Jesus. The saying is sure and worthy of full acceptance, that Christ Jesus came into the world to save sinners– of whom I am the foremost" (1 Tim 1: 14ff).
Jesus, who himself was the victim of religiously inspired violence, who was put to death as a scapegoat for a corrupt religious system, was the very one who appeared to Paul on the Damascus Road. Jesus responded to Paul with love and mercy. What was Paul to do? How was he now to live, since he met Jesus, the victim of his violence? He goes on to write: "But for that very reason I received mercy, so that in me, as the foremost (sinner), Jesus Christ might display the utmost patience, making me an example to those who would come to believe in him for eternal life. To the King of the ages, immortal, invisible, the only God, be honor and glory forever and ever. Amen."
Paul is to live a life of nonviolence; he is to live a life of "the utmost patience". Just as Jesus had shown to him.
What did Paul learn?
First, he learned that he had been very wrong.

He learned that his religious zeal, in which he thought he was doing the will of God, was in fact blasphemy.

He learned that God gave him mercy and love, and God would use him in powerful ways, in spite of his past.

He learned that his response to those who rejected him was to love and show mercy.

He learned that religiously inspired violence was always against the will of God who, in Christ, was himself the victim of religiously inspired violence.
What can we learn from Paul? What does God tell us today about religiously inspired violence?
First, we can learn from St. Paul that religiously based ideas can sometimes be completely wrong, even blasphemous.

Paul's sincerely held beliefs led him to violence against what God was doing in the world.

This has happened with Christians from time-to-time. The work of the Holy Spirit is suppressed by religious bigotry and the protection of power interests.

In the time of the Reformation, there was violence, war, murder, and pillaging, due to the use of State power to impose religious belief. This part of Central Europe was devastated by this kind of violence.

But, the process of quenching the Holy Spirit can also occur in more subtle ways. In the Church of England there is currently much controversy regarding the Bishop of Guilford, who revealed last week that he is gay and in a registered partnership. The Archbishop of Canterbury and others in the hierarchy were aware of this. But the secrecy and duplicity involved in this issue has raised grave concerns about how the Church of England deals with this issue.

Even here in Slovakia, a popular young pastor was removed for holding the wrong opinions on marriage equality. His work of ministry has been very well respected, but his openness to the work of the Holy Spirit in the area of marriage equality was considered too dangerous.

St. Paul teaches us that religious violence and religious coercion are the very opposite of God's will as revealed by Jesus.

For the Christian, violence and coercion are never an option for furthering the message of the Gospel.

Further, Christians are called to be a witness to the power of forgiveness and reconciliation. Paul speaks of the "utmost patience of God" toward him, and this is also what we are called to do.

Revenge is never a Christian option.
Christians are called to be a witness to this kind of love and patience in our daily lives as well as in the world.
When coercion, revenge, violence, duplicity, or resistance to work of the Holy Spirit, goes on within the life of the church it is a bad witness. At its worst, St. Paul tells us, it can be blasphemy.

So too within the lives of our families we are called to love and patience with other members of our families, whether with our spouses or partners, our children, our parent, or with our friends. The Christian calling of love and patience needs to be shown at all levels of our lives.

The Christian is also called at times to bring these values of love, reconciliation, nonviolence, patience, and understanding to the wider society.

In my home country, after the events of September 11, 2001, President Bush and the political establishment reacted with the idea of revenge and violence.

After fifteen years this violence and revenge has only led to more violence and revenge. Hundreds of thousands of people have died because of this attitude. This is because violence and revenge are never the answer.

There is a fine line between revenge and self-defense. Simple-minded actions cannot distinguish between the two.

In the USA there is an important election coming up. Also, in my adopted country of Austria there is an election for president. These very issues are at play. Will the forces of fear, the forces of mob-rule dominate? Or will, a more careful and nuanced approach to the world and its problems prevail. Christians are called to be a witness to the power of God's love and the power of nonviolence and reconciliation.
Perhaps the most significant element of our text is its eschatological direction, we read: "making me an example to those who would come to believe in him for eternal life. To the King of the ages, immortal, invisible, the only God, be honor and glory forever and ever. Amen."
The things we do, the love and patience we show now, our nonviolence, our openness to the direction of the Holy Spirit in the questions of life all move to an end. They are what philosophers call "teleological". The end is the Kingdom of God and its values. This is God's purpose for the world, it is also God's purpose for each of our lives. In a few minutes we will pray the "our Father", the prayer taught to us by Jesus himself. We pray, "thy will be done, on earth as it is in heaven."
It is heavenly values that St. Paul discovered. His religious bigotry and violence were not the last word. Jesus who died in an act of religious and state violence, rose again and lives. God said that violence will not have the last word. The kingdom of God is coming – and it is coming not through violence or coercion, but through the love and patience of God.
May the events of 9-11, of fifteen years ago continue to shock us, but may they also help us to work toward reconciliation, nonviolence, and peace, both in our lives and in the world. Amen.